Review: the 11th Asian Pacific Orthodontic Conference in 2018
---
From March 5th to 7th, 2018, OO Dental visited Boracay, Philippines for a three-day APOC 2018.
From March 5th to 7th, 2018, OO Dental took the first generation of new brackets, O-EYES, to visit Boracay, Philippines for a three-day APOC 2018.
Conference Overview
APOC's full name is Asia Pacific Orthodontic Congress. The Chinese language is called Asia Pacific Orthodontics Conference. The 11th Asia Pacific Orthodontics Conference will be held in the beautiful Boracay Island of Philippines. The conference will be held on the theme of "smiling culture" to conduct in-depth exchanges and discussions. Sixteen famous orthodontic academic experts from around the world are invited to participate in the speech sharing.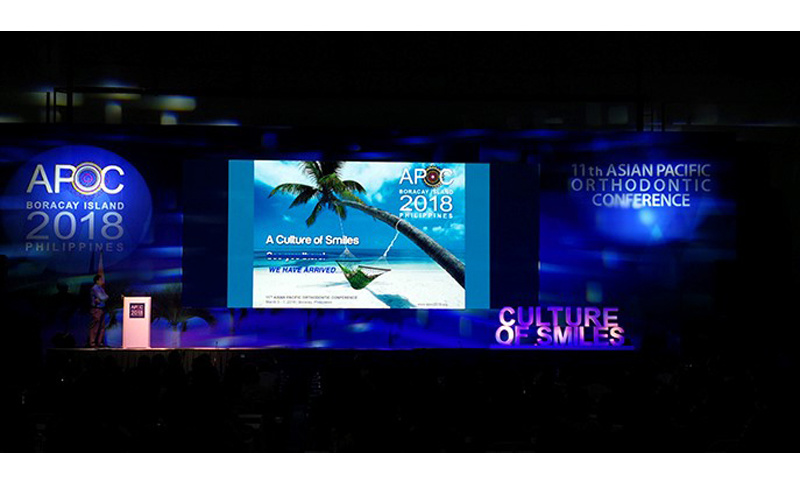 Opening ceremony
Participating companies
Exhibition site
OO MEDICAL SCIENTIFIC LIMITED has always adhered to the R&D concept that simplifies doctor operations, promotes treatment outcomes, and greatly enhances patient satisfaction with experience.
The company has more than 50 patents. Since the company was established, it has cooperated with scientific research institutions such as Sun Yat-sen University of Medical Sciences, Wuhan University, South China University of Technology, and Guangdong Academy of Sciences to conduct academic and technical exchanges and cooperation. It has hired top-notch medical experts at home and abroad to launch medical devices. Forward-looking research and development work.

At present, the first generation of brackets developed, the O-EYES self-locking bracket (O-EYES), is of international advanced level. Everyone in the industry is welcome to come to the booth to exchange experience.
OO Dental adheres to revolutionary continuous innovation and creates world-class products with great care, making it a well-respected medical device platform. In the future, the team of leading medical professionals in various disciplines will also be involved in the continuous innovation and development of multidisciplinary medical devices, and will take the path of innovation in China to serve the global customers.